What Makes Fun Sand Different?
Brilliant Colors
Available in Blue & Purple
Dustless
Non-Toxic Formula
Non-Staining
Color Will Not Run
Semi-Moldable
No Water Needed
Truly Unique
Provides Tactile & Sensory Stimulation
Pet Friendly
Safe for Reptile Enclosures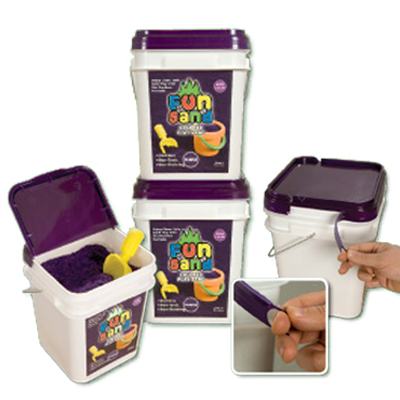 Packaging
Available in 3.3 gallon plastic reusable containers, FUN SAND is designed for ease of use and portability. Our stackable packaging features the EZ-GRIP™ handle and a hinged lid for convenient storage and dispensing. Our clean, leak-free packaging is unlike other play sand bags that are prone to tears and spilling.
Our easy to stack & store re-usable container features...
Clean, Leak-Free Packaging
EZ-GRIP™ Handle
RING-PULL Tear Strip for easy opening
EZ-STOR® - Rectangular stackable secure lid
Unique hinged cover with Open-Lock Lid latch to conveniently dispense product
Easy to identify colored lids
The literature and images made available to you on this site are the sole property of the Fun Sand and are made available for the purpose of advertising our products to the consumer through retail sources, or to buyers of distribution centers and retail businesses. Written permission must be given for any uses beyond standard advertising practices. Any uses other than those specified above will be considered a violation of this agreement and could possibly infringe upon copyright laws, applicable to trademarks and registered trademarks filed with the U.S. Copyright Office. Violators of this policy will be prosecuted.